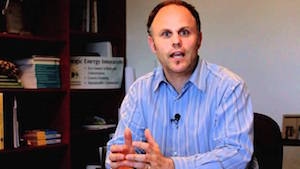 Kif Scheuer, Climate Change Program Director for the Local Government Commission and lead organizer of the 2014 California Adaptation Forum, writes about his experience at the May 12-14 2015 National Adaptation Forum: "The National Adaptation Forum attracted over 800 people to St. Louis for two days of learning and networking. Compared to the first National Forum in 2013, this event was not only larger, but more diverse in terms of attendees and subject matter, with a much greater emphasis on public sector and urban topics. Equity in adaptation was another outstanding element of the program, with a number of key sessions highlighting the risks to vulnerable populations as well as case studies highlighting successful engagement campaigns from diverse communities around the United States. Given the complexity of climate impacts and the challenges in tracking action, it was no surprise that many attendees were also very engaged in the sessions that addressed indicators of climate change or methods to measure and track adaptation activities.
For me personally, I had a lot of thoughts and feelings about the Forum.
The sessions on indicators were enticing, but also frustrating because of the relatively nascent state of the field of practice here. A session that highlighted several frameworks left me with way more questions than answers. It is clear to me we need a standard of practice in measurement and a protocol for decision support that is reasonable for local governments and others to use, but somehow integrates the vast and complex body of data that is needed to inform such decisions and plans. Such a resource is obviously expensive to produce, and is not something that can or should be developed by a small or local entity. Can we imagine the state or federal government developing a tool that can manage the necessary complexity without breaking down the capacities and resources of the folks who need the results so desperately? 
I was also drawn to presentations that focused on how to communicate about climate change to diverse audiences and how to bring together key stakeholders to work on adaptation at the local level. In particular, I got a lot out of a session on a community in North Carolina that looked at ways to combine Hazard Mitigation Planning with Economic Development Planning in ways that leverage the approaches and expertise of these distinct plans to improve both efforts. To me, this session highlighted how some relatively modest coordination and cross-sector engagement can avoid a lot of duplication and potentially unlocks new methods and value systems that can greatly benefit the end product.
Of course at an event like this, there's an immense amount of value in the conversations throughout the venue. I particularly enjoyed spending time with the many Californians who came to St. Louis, as it provided some focused time to talk about our own needs and reflect on how much we are doing, while also challenging us to do more in the coming years. As the lead organizer for the California Adaptation Forum, I was also inspired to raise the bar for 2016. In the coming months as we get into planning more earnestly, I know I will be thinking about how to bring more to attendees but also how we can ask more of them so our momentum can continue to build.
Finally, as I noted in the Sonoma Forum meeting last week, I spent a lot of time in St. Louis wondering about the balance between a national venue for adaptation conversations and more local ones. As was so clear on your first forum day and even more on the second day as folks dove so deep into Sonoma County issues and strategies, adapting to climate change requires breaking down silos and building new solutions - at home. I think we need a national event. For now the field is way too immature not to bring folks together nationally. We will always need to know what is happening across the country and meet with colleagues on some level. But I imagine that overtime the role for national discussions like this will evolve, perhaps towards a leadership / strategy convening for the movement as a whole, rather than the place to get access to local case studies and practitioners (which we hope become more visible through other means).
So overall, a great experience and one that gave me lots of food for thought. I look forward to building on the relationships from the event and working even more strongly with the ones I already have."
Kif Scheuer
Climate Change Program Director
Local Government Commission
kscheuer@lgc.org
https://twitter.com/kscheuer
https://www.linkedin.com/pub/kif-scheuer/3/882/63